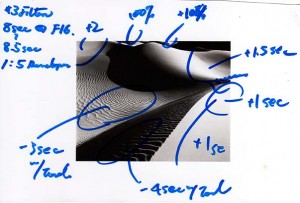 I've been thinking about how photography has changed since I first started out. In "the old days", I can remember making 50 prints in the darkroom to arrive at one good print. The image at left shows the instructions I made on one of my prints to guide me when I was printing in the darkroom. Early "Photoshop!" These days I rarely make prints from my images at all. Unless the are printed for my fine art work, they are licensed electronically for stock photography.

This summer, nearly 20 years after I first became inspired by the work of Ansel Adams, my family finally visited Yosemite National Park in California. It was a very brief visit due to our tight schedule, but I was definitely blown away by its beauty. Driving through the valley, images by Ansel Adams kept popping up in my head and I was again amazed by his ability to capture the essence of this beloved place. I felt like I experienced and enjoyed Yosemite through his eyes.

As I photographed and made some video clips with my digital camera in Yosemite Valley, I couldn't help wondering how Ansel Adams would   photograph this place again with all the technology available nowadays. I have no doubt that Ansel Adams would have dove into new technologies to become a pioneer of the digital revolution. After all, he was the inventor of Zone System, such a technical, control-freak process. He would have loved using Photoshop when he was printing one of his masterpieces. Then I realized that the creative process has not changed a bit in all these years. When you have something in your head, it's only a matter of how to get it out on the paper or screen. A darkroom or computer, filter or white balance, enlarger or Photoshop… I guess it doesn't matter what you use.

What I love about photography that it allows us to see how other people see the world. I sure would love to see how Ansel Adams would photograph Yosemite again today.